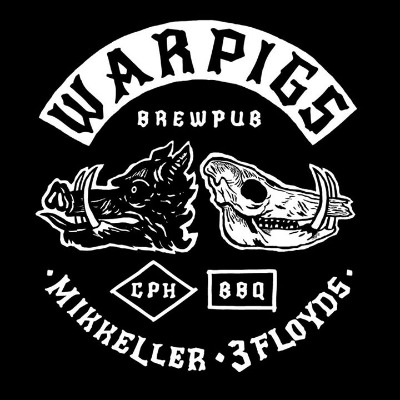 Rumors were already circulating during CBC 2014. Some murmuring about a new brewpub that was going to open sometime in the future. Warpigs was the name (I can almost smell the Black Sabbath reference here), but at the time that was all the info I had. Soon I came to know more about this mystic place, being a concept cooked up by no other than Mikkel Borg Bjergsø of Mikkeller and the infamous guys of 3 Floyds Brewing from Munster, Indiana. 2 giants in beer brewing from both sides of the Atlantic coming together in the heart of Scandinavia, Mikkels homebase, Copenhagen. Opening night is getting closer and the pieces are starting to come together, so I wanted to have a little chat with Warpigs Event & Communication Manager, Kamilla Hannibal, who also happens to be Staff Sergeant for the Warpigs Troopers.
"Both 3 Floyds and Mikkeller are well-known for both their experimental, well-crafted beers as well as their strong personalities. They feed of trying new things and doing exciting collaborations. Nick and Chris from American 3 Floyds were really into the CPH beer and food scene and had been friends with Mikkel Bjergsø for quite a long time. It seemed natural that WarPigs should happen." she says.
The bar is a 1000 square meter building located at the now up and coming old meatpackers district in Copenhagen, called "Kødbyen", just a short stride from Mikkeller Bar in Viktoriagade which beer geeks visiting the city should be familiar with. Originally they were aiming for another location in the city, but as soon as Mikkel and Jacob Alsing, Operation Manager for Mikkeller, heard about a vacant spot in Kødbyen, they wasted no time checking it out.
"5 minutes after arriving they decided that there were no other place for WarPigs to be, but in this old slaughterhouse. The area has a raw and straightforward approach to food and drink. Suits us at WarPigs very well."
Since it is a preserved area, being an important historic site, this gives them some challenges regarding what they are allowed to do with the floors, walls or ceiling. Using their wits, the look will be a combination of rock club meets Twin Peaks meets cantina meets your dream beer Mecca
So what does this make Warpigs, you ask. Well, the aim is pretty straight forward and shot from the hip. To be the best damn brewpub in the world, and if that is not enough, they are cooking up some serious Texan bbq using what is to be the biggest meat smokers in Europe, able to smoke 1 ton of meat per day. In charge of this madness is chef Andrew Hroza. Former rock`n roll roadie chef for Slipknot, Nora Jones and Van Halen, among others, and head chef and Cicerone at Goose Island Brewpub, before heading over to Copenhagen to run the kitchen at WPs. Do not be afraid of smoke, spice and large portions. But don't forget to wash that down with one of their 6 freshly made house beers from their own brewery, or one of the other beers from their 22 on tap, Maybe something from their massive barrel age cellar?
The beers will mainly be the creation of Mikkeller and 3 Floyds, specially made for the brewpub, but they will be brewed on their 250 000 l a year brewery by former 3 Floyds crew and now head brewer of WPs, Kyle Wolak and his accomplice Lan-Xin Foo, who has worked and brewed for Mikkeller for some time now. They will also be creating some of their own recipes and experimental beers, so don be shy, there will be enough to go around for everyone. For the few lucky there will also be bottles to be bought, but these will be limited to the bar and not distributed elsewhere. The main focus of the bar will be their own beers, guest brews and tap takeovers, and they will be brewing all the time, except for when they are allowed their daily coffee break.
But what is this deal about the Warpigs Troopers?
"We want amazing ambassadors to make WarPigs unique. The response has been overwhelming and we are getting close to 200 members a month before we even open. Basically you can choose from 5 different ranks. Trooper, Lieutenant, Major, Colonel or General.
The higher rank, the bigger perks. The basic perks are some merchandize and discounts. The
crazy stuff are invites to out-of-the-ordinary events and pre-sales of extremely rare limited
edition bottles. It is for beer nerds who love beer and fun and games."
Warpigs Troopers is basically a ranking membership you buy, giving you access to certain privileges, like closed events, pre-sales of limited edition beers and merchandise. There will also be discounts in the bar and access to areas that is limited to your rank in the trooper hierarchy. If you`re in the "Mug Club" you're swimming with the big fish, with your own personal mug, having access to smaller and more exclusive events that is above the lower range of Trooper. Highest rank is General of the Armies, and "There can be only one", to quote Christopher Lambert in Highlander from 1986. There is yet to be a General, but if you`ve got the guts, and the cash, you might be leading the Troopers of the coolest brewpub in the world.
If that is not enough, homebrewers across the continent will be delighted to hear that Whitelabs will be setting up camp in the same building as Warpigs, giving us European homebrewers and professionals an easy access to top quality yeast.
"White Labs will occupy space at the WarPigs brewpub. The relationship will bring three widely recognized companies in the brewing world into close proximity and will create a strong beer focus to the historic meatpacking district in Copenhagen, where the building is located. Known for its creative gastronomy, growing craft beer and music scene, and robust art district, this Copenhagen district is exploding into a haven for brewing and culinary arts."
(Whitelabs)
"I am greatly looking forward to collaborating with White Labs," said Kyle Wolak, head brewer at WarPigs. "It is an extraordinary opportunity to expand my knowledge of yeast and its vital role in the brewing process."
(Whitelabs)
Opening day is on April the 10th, just a few weeks before Copenhagen Beer Celebration opens its doors for the fourth time. What is going to happen on this day?
"It is more a question of what´s not going to happen. To fusion 3 Floyds love for heavy metal and Mikkeller´s cold and cool Nordic approach we are spicing it up with Twin Peaks weirdness and dark-carnival vibes. We don't want to tell too much, of course."
We think the best thing for you to do is stop reading and come by and see for yourself.
Please check them out here and visit them when in Copenhagen.
Kjetil